I figure since I am at ISTE in Denver and have been spending bunches of time in the Blogger's Cafe, I should probably write a blog post while I am here. I am going to use my favorite question floating around the venue as my prompt.
"What are your biggest takeaways?"
Related to the conference itself, my biggest takeaway is that I absolutely made the right choice to not pack my schedule full of sessions. In Atlanta at ISTE 2014, I let FOMO rule my schedule. I bounced from one session to another, often standing in lines for hours to make certain I got it. I have chosen a few sessions to attend (mainly for the people presenting rather than the topics) and have left myself open to go with the flow – to follow the breadcrumbs, as I heard someone say. Because I followed that path I was able to:
be a part of team playing a brand new Digital BreakoutEDU game while sitting in the Blogger's Cafe with one of the game designers and while we had a live audience. Yes, we broke out, and yes it was totally cool.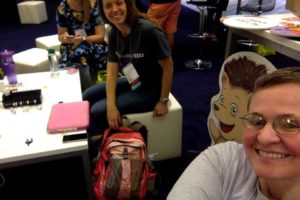 attend an impromptu sketchnoting session given by the incredible Sylvia Duckworth. I learned so much about Procreate (iOS, $5.99) and how to bend it to my will. I feel more empowered know that I know the tool. Now I know I need to focus on the transference of what I hear into concise nuggets and then transfer those nuggets into images (I will likely use icons, especially those from The Noun Project, to begin). I am not an artist but I can trace and Procreate allows for that quite easily. Finally, it made me so much better to hear Sylvia say she traces as well. Tracing has too often felt like "cheating" to me. No longer!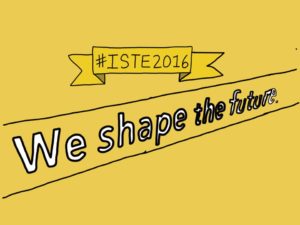 go through the new BreakoutEDU bus with three complete strangers who have now become a part of my PLN. Our team, "Once Strangers, Now Friends" had the fastest escape time for Day 1. Go team!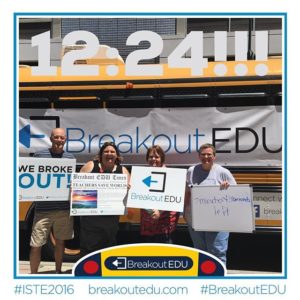 spend two hours volunteering at the BreakoutEDU bus, giving back to the community that has given me so much over the past year. It allowed me to connect face to face with many of my PLN AND be a part of sharing the BOE movement with more people.
attend the EdCamp organizers meet-up where, again, I was able to see my digital PLN come to live before my eyes. (Are you sensing a theme here?)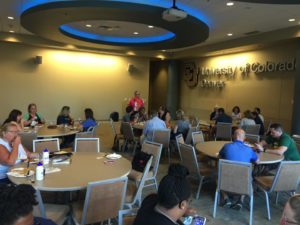 sit in a quiet hallway, charging my phone and decompressing a bit. That soon led to a conversation with some who recognized me from Twitter. A conversation that would have never happened with the previous ISTE strategy.
And all of that (and more) was Day One!
Day Two is half over and the trend continues (another blog post will share my takeaways after the day is done). As a matter of fact, as I sit here typing, I took a break when someone (I hadn't met face to face) introduced themselves and we had a great chat.
THIS is what ISTE is about for me this year. The gadgets are cool; the sessions, informative (and a chance for many of my friends to share their awesomeness); the activities, well, exhausting but also entertaining because of the people attending. And, now, I will get off my computer and, well, do something. Not sure what yet but I have no doubt, it will be awesome.