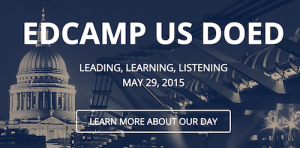 I am beyond thrilled that I got an email yesterday saying I get to go to EdCamp US DOE at the end of May! I entered the lottery last year and didn't make it in. This time, luck was on my side.
Expect many a post and tweet about the experience.
In the meantime, I am looking for anyone willing and able to help me offset the cost of the trip. Even a few dollars would help. I couldn't set up a DonorsChoose campaign for myself because I am not eligible. I am not a classroom teacher (district-level Instructional Technology Specialist) and am not in front of students at least 75% of the time. So, I decided to try setting up a GoFundMe campaign.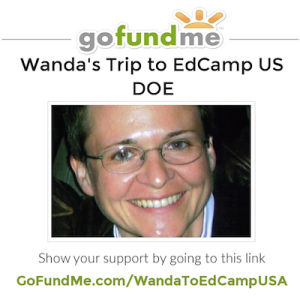 I'm going regardless but, turns out, a last minute trip to Washington, D.C. is pretty expensive ($200 a night for the conference hotel, round trip flight from Memphis to D.C., transportation to and from the hotel to the airport). I've decided to forgo a couple of trips I had planned for the summer (ISTE 15 and the CA GAFE Summit) to help cover the cost of this trip but if you want to help me out, that would be greatly appreciated.
The chance to have meaningful conversations about the state of education in our country with educators and policy makers from around the USA will be an incredible experience. Thanks in advance!