I've been busy gathering sponsors for our upcoming EdCamp Memphis and am pleased to list Picmonic among them. Before yesterday, didn't about them and that's a shame. Another sponsor, BirdBrain Science, shared a link with me to the article 7 EdTech Startups Revolutionizing STEM. Both Picmonic and BirdBrain Science are listed in the article and both deserve a moment of your time.
Picmonic is a web-based application that delivers audiovisual mnemonics designed to improve memory retention.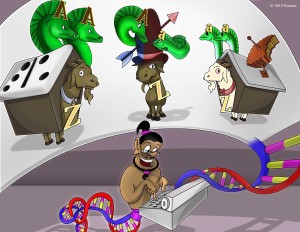 Homozygous vs. Heterozygous Picmonic
They offer lots of resources for medical students (by subscription) but are offering free resources as well. Right now they have picmonics covering topics in Inquiry as well as Reproduction & Heredity for 8th grade Science. Current picmonics include:
Bias
Experimental Group vs. Control Group
Measurements and Tools
Mice and Cheese Experiment
Observation and Inference – Blue Hair
Observation and Inference – Green Egg
Observation and Inference – Green Stalk
Plant Growth Experiment
Quantitative vs. Qualitative
Question and Hypothesis – Distance
Question and Hypothesis – Heat
Question and Hypothesis – Height
Roller Coaster Cart Experiment
Validity vs. Reliability
Blood Types
Cells and the Nucleus
Charles Darwin
Chromosome and DNA
Dominant vs. Recessive
Genes and Alleles
Genotype vs. Phenotype
Heredity
Homozygous vs. Heterozygous
Hybrid Punnett Square
Purpose of Cell Division
This technique could certainly be used by teachers of other subjects. I can envision teachers utilizing blended learning creating their own mnemonic illustrations (maybe combined with the concept of sketchnoting) to help students with memory and making deeper connections with what they are learning.